PEVO Supreme Series Soccer Goals
PEVO's most robust top of the line soccer goals. Designed to meet all elite Club, High School, NCAA & FIFA goal requirements. Wheels come optional on this model.
shop NOW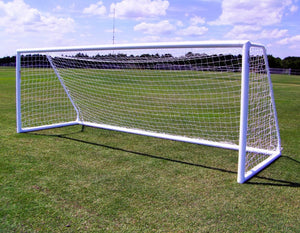 PEVO Sports Covered Benches
The PEVO Covered Bench looks great on any sideline. This lightweight bench is manufactured with a 2" square aluminum construction and comes with an 18 oz. coated vinyl, weather resistant canopy which attaches via bungee balls to make it easy to attach and remove. This canopy can be customized with your teams logo.
SHOP NOW
PEVO Park Series Soccer Goals
PEVO's most popular series of soccer goals. The Park Series' lightweight yet incredibly durable design makes it ideal for numerous applications. This designed to be easily moved around any Park, School, Club, or Backyard it can be found in.
shop NOW
Why Use PEVO Soccer Goals? Quality, Delivery, Customer Service.
Our goals are manufactured here in the USA with lightweight,  aluminum to ensure they'll last, guaranteed.
Looking to get your goals before your next game? Our lead times are some of the lowest in the industry.
Any issues with our products? Just contact us and we will take care of them for you.
All PEVO goals are manufactured in the USA